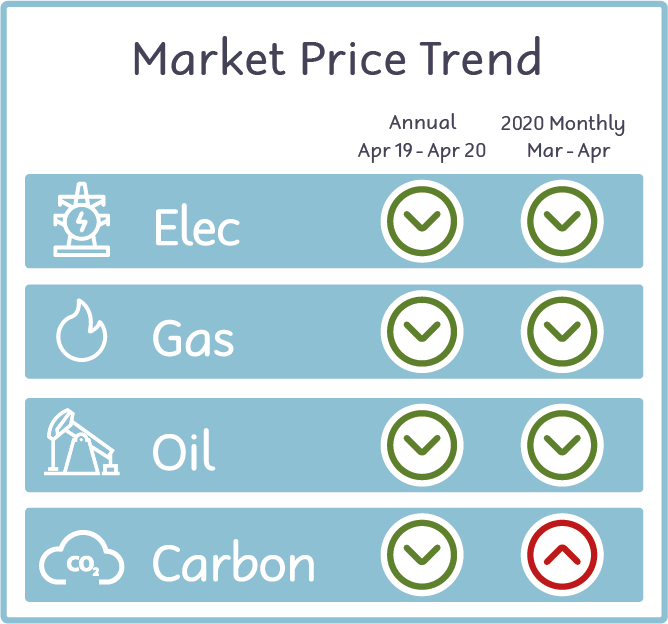 Movements within the wholesale energy market can have a significant impact on the price a business will pay for their electricity and gas. The effective unit rate a business pays, includes the commodity cost (the cost of the energy that is consumed) and the third party charges which include but are not limited to Climate Change Levy (CCL), Renewables Obligation (RO), Feed in Tariffs (FiT), plus other transportation, and maintenance costs. The commodity costs account for circa 45% of an electricity bill and 65% of a gas bill. For further details regarding effective unit rates, please get in touch.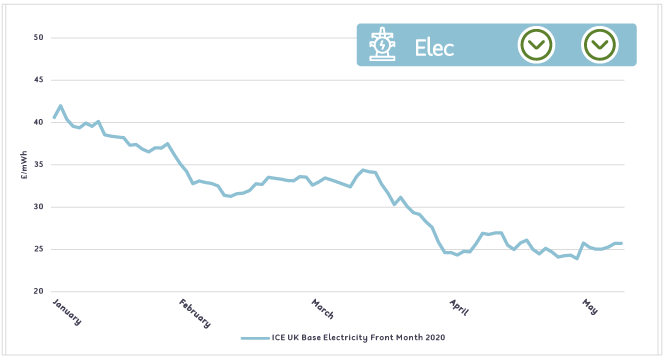 UK Electricity prices continue to fall during lockdown but begin to show signs of stability.
The combination of coronavirus shutdowns and low gas prices continue to drive electricity prices downwards, but UK wholesale electricity has gained some stability because of the French Nuclear production being capped combined with low wind generation in Germany. The result is a marginal 1% decrease for wholesale electricity for April.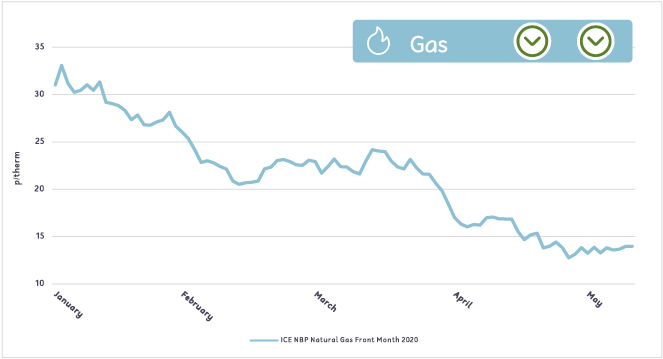 Further mild weather and an absence of demand push UK gas prices to record lows.
UK gas prices continue to fall by circa 20% as mild weather and the UK lockdown lowers the possibility of any demand. The downward trajectory is compounded by further decreases in oil prices, a good generation from UK wind and a healthy storage of gas in the UK.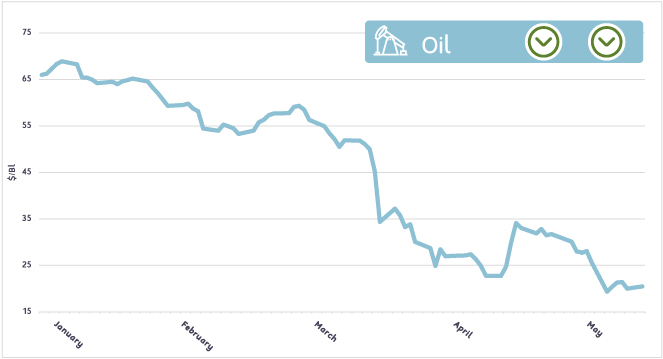 Oil prices show signs of recovery despite a plunge in value in late April.
Following sharp drops in March and record negative World Trade Index oil prices affecting the United States, Brent Oil has managed to rebound. This is partly due to countries reaching an agreement to disengage from current price wars following OPEC (Organisation of the Petroleum Exporting Countries) announcement of a decrease in production.
But with the lack of demand from aviation because of Coronavirus, expectations for a resurgence in price is low. Despite the rebound the late plunge hold prices negative with a 1% decrease.
Unlike other commodities, carbon records a steady increase in prices.
Following a momentous drop of approx. 30% in March, carbon prices began to climb at the start of the April following signs that the coronavirus outbreak was beginning to ease in Italy, Spain and Germany.
However, as the month went on this upward trend was not as significant and prices remained volatile. The trend was hampered by the reduction of French nuclear generation which reduced the amount of green energy available in the UK. This increased the demand for more carbon certificates and a subsequent hike of 14% in the cost of carbon over the month of April.
On the horizon:
A blustery April has led to good wind generation which is expected to drop over coming months and will affect the European price of electricity.
The impact of Coronavirus is beginning to show on economic data adding fears of a global economic slowdown which will continue to impact on the price of commodities but especially oil especially with the non-appearance of any air travel.