Our energy market update gives you insight into market trends for gas and power, and what to watch throughout the month.
Market Summary
Gas – A mixed month with prices slightly edging up
Power – Shadowed movement within the gas market due to oil prices picking up
Direction of Market Price

Gas
Production problems in Norway which impacted British imports and a huge cut in production from a major gas field in the Netherlands gave supply concerns to the UK and added pressure to gas prices forcing them up. This, coupled with a stronger oil market saw prices peak on 12th February.
As news filtered through about warmer temperatures forecasted for the end of February, any upwards pressure was dismissed after its mid-month peak making February a month of two halves.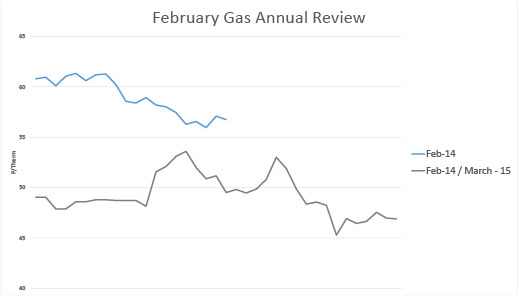 Power
Power prices continued to mirror movements seen within the gas market. Power prices began by being pushed higher amid news of the production cut at the Groningen gas field in the Netherlands until summer 2015 but any real spikes were offset as positive weather forecasts we're confirmed.
Wind output remained high for the end of the month and a strong LNG outlook did soften any spikes seen within the market after its mid-month peak.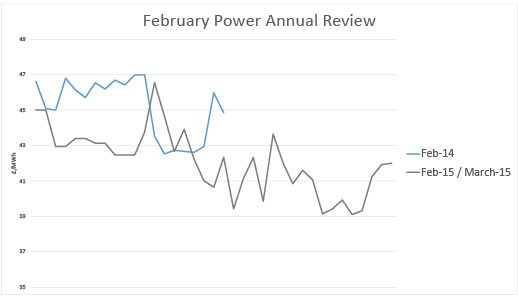 What to watch out for throughout March:
Whilst the ceasefire between Russia and Ukraine remains in place, it is unsure yet whether this will hold as fighting continues which brings economic uncertainty.
As we head for spring and seasonal temperatures typically change, how will this impact the energy market.