Our energy market update gives you insight into market trends for gas and power, and what to watch throughout the month.
Market Summary
Gas – Higher LNG supply to the UK saw gas prices remain low in May
Power – The power market continued to mimic movements in the gas market
Direction of Market Price

Gas
Sustained healthy supplies of liquefied natural gas (LNG), due to lower demand-led prices in Asia, have kept gas prices low in May. This is despite limited Norwegian imports throughout the month due to maintenance work and a stronger oil price following the continued geopolitical concerns in the Middle East. The pound has continued to appreciate against the euro which has also kept gas prices down.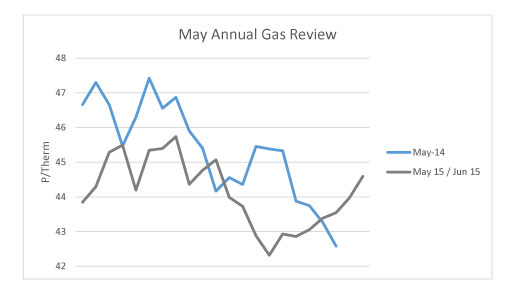 Power
The gas market continued to be the main driver behind downward movements in the power market. High output from Britain's LNG terminal increased supply pushing prices down. Lower gas prices generally reduce the cost of generating power by using gas.
Higher than expected wind generation offset any expected increases from revised lower weather forecasts.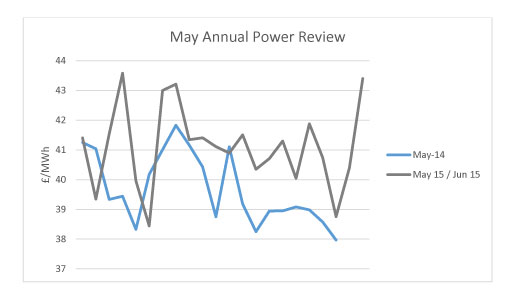 What to watch out for throughout June:
The Greek debt crisis continues to weigh heavy on the financial markets; Greece has a key debt payment on June 5 2015.
As well as the fighting in Libya, fresh tensions in Iraq and Yemen have raised concerns over supply disruption with Oil. This coupled with a slowdown in US shale oil production were the key drives of the increase in oil prices in May, resulting in prices reaching $67 a barrel from the lows of $46 in January.
Oversupply of Oil still remains a key factor with OPEC's output in April reaching its highest level since Nov 2012, as it continues to defend its market share. However this failed to ease the premium placed on oil due to the turmoil in the Middle East.